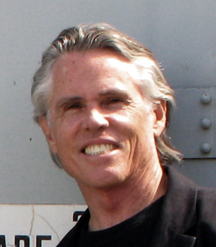 William Leidenthal grew up in Palo Alto, California, in the 1950s and 60s. Will earned a BA in Liberal Studies from the University of Hawaii (1984) and went on to graduate school in North Carolina for his Master of Fine Arts degree (1987).
In the 1990s William lived in Los Angeles, California. While working as an Art Director and Graphic Designer for advertising agencies in the Los Angeles area, he continued to paint at his Eagle Rock district studio. Will currently lives in the north San Francisco Bay Area and has a studio in Sausalito, California.
William has been showing his paintings, drawings, etchings, and other art works throughout the United States—from New York to Los Angeles, Honolulu to Miami—since 1979.